What is Art? What does it mean to you? It can mean many things. I believe you can capture its essence with three words, communication, inspiration and emotion. It is an expression or application of a human creative skill with imagination. It can redefine the world, as we know it. This is a tremendous topic to tackle so without getting too philosophical. Art is anything someone wants to call Art and it is beyond the realm of rational thinking. There are no rules and it does not need to make sense. I'm going to approach this subject from a few angles while hoping to inspire and enlighten you. Since I come mostly from the commercial world, I'm going to draw information from advertising to demonstrate my definition of what Art is.
Communication takes on many forms especially when it comes to advertising. The historic 1960 "Lemon" ad campaign is a great example of how the right design can be a force. The Volkswagen Beetle was known as Hitler's favorite car. Only 15 years after WWII, this ad revolutionized advertising forever. The advertising agency Doyle Dane Bernbach (DDB), introduced the Beetle to America with a simple black & white photo with the words in bold "Lemon". What follows is a statement below the image that proclaims that this particular car missed the boat and was rejected by Inspector Kurt Kroner, because of a blemish you would not have noticed on the chrome piece of the glove box. The ad goes on to describe the rigorous inspection process; one out of fifty does not pass for something as simple as a surface scratch barely visible on the windshield. "This preoccupation with detail means VW lasts longer and requires less maintenance, by and large, than other cars." Concluding with a memorable tag line "We pluck the lemons; you get the plums". The first impression is that Volkswagen is calling their car a lemon. How could a car company call their product a lemon? This question is intriguing enough to read further only to see that this ad is really about the rigorous inspection process that Volkswagens go through. AMC's popular TV show "MAD MEN" referenced how ridiculous this ad might seem but they correctly pointed out that it made you engage in conversation. In that sense, it did its job to get you to simply talk about it.
The honesty of the campaign was a constructive force and a critique of society. It took on all the other car manufactures who where building large vehicles with many accessories and flashy colorful ads. While VW comes up with this minimalist approach from every aspect and essentially communicates its message with one word. It broke the rules of advertising and launched a new idea. William Bernbach of DDB is considered the father of the "Creative Revolution." This movement formed the creative ad agency that still lives day. The Lemon ad surely inspired its audience.
Another beverage company used Santa Claus for their advertisements and did it years before Coco-Cola. In a 1915 their first ad was published in the San Francisco Examiner. White Rock Beverages could be considered the creator of the modern day image of Santa Claus but they did not repeat or expose their ads to the extent Coco-Cola did. The emotion was not engendered so they are unfortunately forgotten. The ad featured here is from 1924.
Santa Claus's image without a doubt brings on a nostalgic emotion but many artists express their emotions through their art and the finished art will reflect that emotion. My work tends to follow this format. Other artists may make an image with the hope of creating an emotional response. Instead of illustrating the obvious by using a famous work of art as an example I am going to use my work to illustrate this point and have my readers prove my point by submitting their thoughts in a contest called "The Rules of Art".
"The Rules of Art" contest encourages fans to choose an image from the www.scottsilver.net website and explain in two or more sentences what that image means to them and what emotions they feel. In the spirit of "what Art is," I am looking for creative responses that provoke communication, emotion, and inspiration. Maybe you go the extra mile and write a short story? I can only dream.
All fans are invited to participate in "The Rules of Art" contest.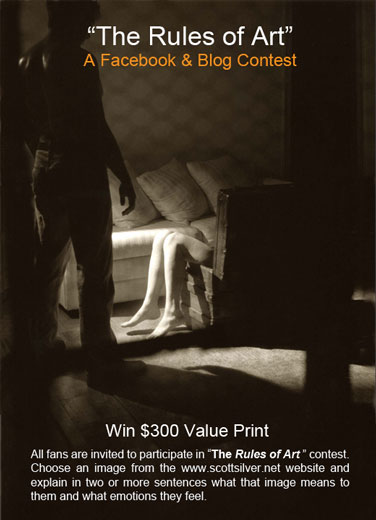 Terms:
Contest begins January 1, 2012 and ends May 1, 2012. Information on how to enter and prizes form part of these official rules ("Official Rules"). By submitting an entry, each entrant agrees to the Official Rules and warrants that his or her entry complies with all requirements set out in the Official Rules.
Who may enter:
Any Scott Silver Facebook Fan or Blog Subscriber.
How to enter:
Simply comment on a photo. Please state the photo your responding to and preferably attach photograph to your comment. Having trouble getting the image? Go to my Flickr account and right click on an image and copy it to your desktop then upload to Facebook. Contact me if you have any problems.
Judging:
Winner will be chosen using two categories:
Communications
– Total number of comments from your Facebook or blog post. Meaning I will count the comments for each post. The person with the most communications will win the communications category.
Best Answer
– Since Art is subjective so will be your responses and I will decide who's submission is the best.
Decision of the judging is final and binding.
Contest Rules:
Have fun and enjoy the process. Lets engage in conversation!!!!
Winner announced:
Since I just published my fan page and blog I need word to spread and that takes a little time. April 1st I will select a winner. Help me spread the word!!
Prize:
The winner will receive a signed $300 value museum quality 6×9 archival pigment print. It's guaranteed to last 100 years. Prints are matted on 16×20 acid free matt board.
If you have any questions please contact me. This is supposed to be fun and create open dialogue.
Good Luck!!!!